_
The Jason Riggs Story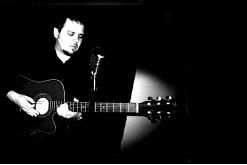 Singer/songwriter Jason Riggs was born and raised in Albuquerque, NM. Jason spent six years of his precious youth working a soul sucking day job at a semiconductor plant, whilst playing guitar at night in the almost thriving Duke City music scene. He bided his time, waiting for a big break.
That break came when he was laid off from said soul suckin' day job. With severance check in hand, our hero started his own record label BINGO Recordings, recorded his debut album "These Wheels", threw his guitar in the back of his pickup truck, and hit the road.
He played coffeehouses from Colorado to Connecticut, winning over new fans one ear at a time. And he had fun doing it.
Jason went into an Albuquerque studio to record the follow up to "These Wheels."  A few years and lot of tape later, his second album was complete. He called it "Pawn Shop Special." That's hipster musician-speak for a cheap guitar. The songs took on the subjects of love, heartache, death, redemption, shattered dreams, and party girls!
If "These Wheels" was the optimistic start of a rock'n'roll road trip, "Pawn Shop Special" is the night time swing through the lonely mountain passes. It got some great reviews and Jason hit the road for a three state mini-tour.
For a moment, life was good and it seemed that any dream could come true.
Then, gas prices went up. Coffeehouses started closing. Credit cards got maxed. Things got a little rough for aspiring singer/songwriters.
The mini-tours weren't enough to stave off the inevitable return to the day job life. Again, he found his soul being sucked. But, at least he had health insurance!
Who knows where the future will take our hero? Will a third album make a big enough splash to propel Jason to that elusive next level? Or, will he simply have to live with being the rock'n'roll working stiff that he always has been? It is hard to say. But, when Jason Riggs first set off on Route 66 in his camper shelled Ford, he was after fame, fortune, and romance. One out of three ain't bad so far!